Fan Fitness: The Inside World of runDisney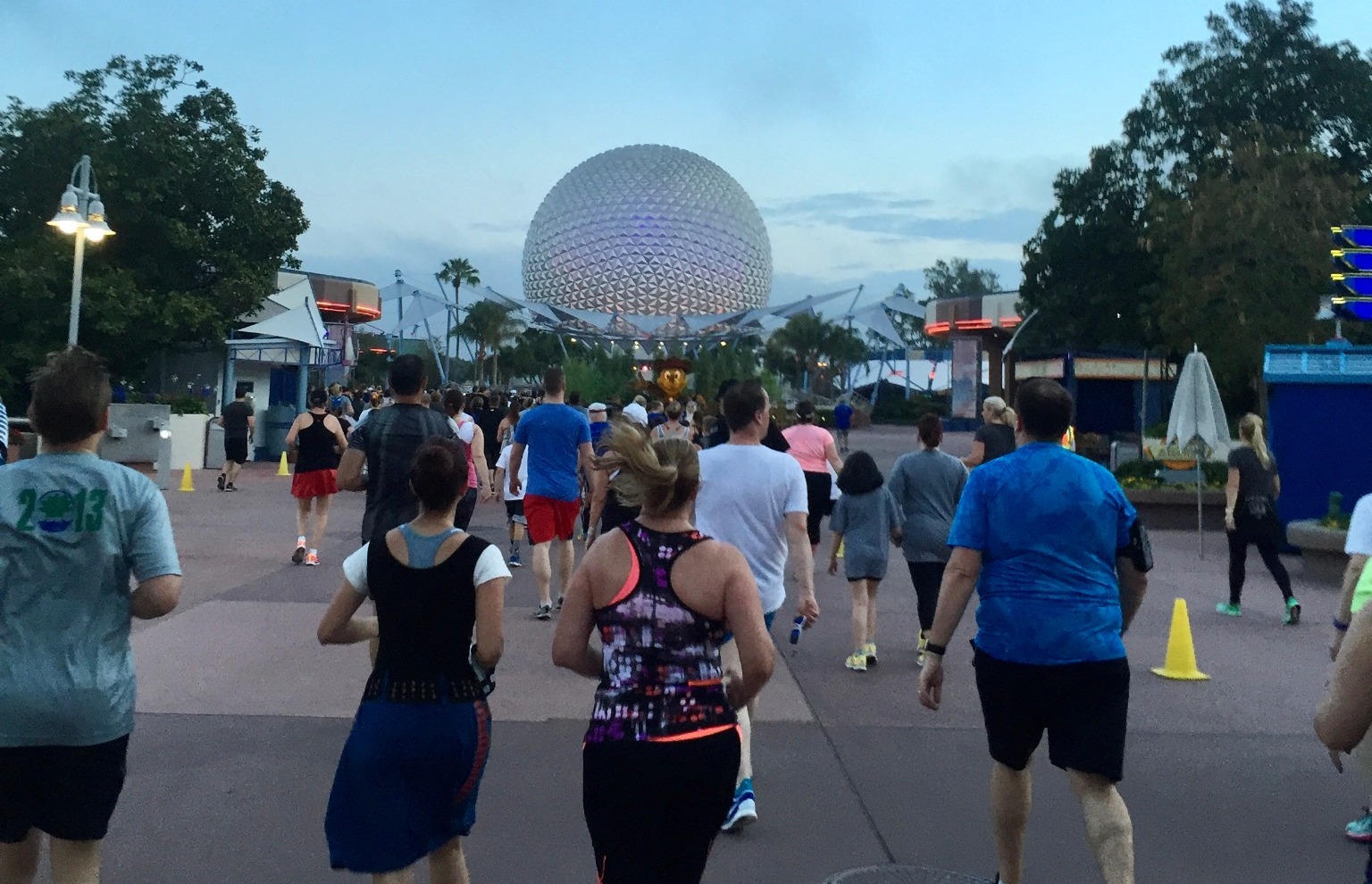 (This article was originally published in May 2016 in Billy)

One dark and balmy pre-dawn Californian morning, I found myself standing amid a throng of thousands of people. Most of them exuberantly excited – too excited for this ungodly hour, many of them elaborately costumed, more than just a few wearing mouse ears. Awake at 4 am, dressed in running shorts and shoes, and packed into corral C, I was awash with a sense of disbelief. I don't like crowds, I don't do mornings, there is no coffee here…so what was I doing here?
Here would be the starting line of the Disneyland 5K race. As for what I was doing? Well, it seemed I was about to run. Surprising considering barring the threat of attack by deadly animal, I do not run. Yet standing with my husband and eight-year-old daughter I was a little more than excited (ok, maybe afraid). The next logical question then becomes, how did I get here?
Turns out, the answer to this question is at root of runDisney's success. It's why the organization draws up to an average of 28,000 runners at each of its nine race weekends across two, soon to be three, parks. It's why race registrations sell out within hours, much faster than race industry norms. It's why seeing runners dressed as all five emotions from Inside Out or as Minnie Mouse or as any number of princesses, superheroes or Star Wars characters is more the norm than out of place. And it's why my husband – whose affinity for Disney overtook the house in creeping advances – managed to convince me to undertake the one form of exercise that I despise the most.
So many of the 250,000 people who take part in runDisney races each year do it for a very specific reason: fandom.
DISNEY'S RUNNING EMPIRE
Running as a sport is nothing new. With thousands of races around the world, millions of people find fitness stride by stride. But in the last two decades interest in running has exploded, creating a market for more whimsical and entertaining races.
In fact, Running USA reports that the industry grew by 300% between 1990 and 2013, with 2013 being the sport's peak year with 19 million runners in the US. With this growth has come countless themed races, aimed at special interests compared to the elite athleticism of world-class races like the Boston and New York marathons. You can run and drink wine or beer afterwards. You can run and rave afterwards. You can run and rock out afterwards. Still, none of these events draw the intense loyalty that runDisney does.
Disney has been operating its themed races under the runDisney banner since 2010, though has been in the running business since 1994 when about 7,000 people ran a marathon at Walt Disney World. That rebrand has been key to getting people, often the most unlikely athletes, off the monorail and onto the running trail.
There's really a race for anyone in the runDisney world. There's the Walt Disney World Marathon Weekend in Orlando, the flagship weekend, which draws more than 50,000 participants and just as many spectators. Then there's the Disneyland Half Marathon Weekend in Anaheim, which is estimated to bring $20 million to $30 million in economic activity to the Southern California area. There's a Wine and Dine Half Marathon for those who like a liquid reward. There is a Tinker Bell Half Marathon, which appeals greatly to women, along with the Disney Princess Half Marathon Weekend. And registrations for both the Avengers Super Heroes Half Marathon and the Star Wars Half Marathon sold out within two hours when they launched in 2014 and 2015, respectively. There's even a race on Disney's private Bahamian Island Castaway Cay, and the first European race weekend is planned in September 2016 at Disneyland Paris.
If the tie-in to characters and franchises with these race themes is the bait, then the multi-race challenges are the real hook. While each race weekend includes kids races, plus a 5K, 10K and half marathon, special medals – each weighty and elaborately designed – are given to those who run all the distance races in the same weekend, with names like the Goofy Challenge, the Dumbo Double Dare and the Star Wars Rebel Challenge. There's a coast-to-coast challenge, with a special medal for those who run at both parks. And the ultimate? The Dopey Challenge, wherein lunatics dedicated runners run a 5K, 10K, half and full marathon in one weekend, a total of 48.6 miles! Just this past January, 8,000 people undertook this insane feat.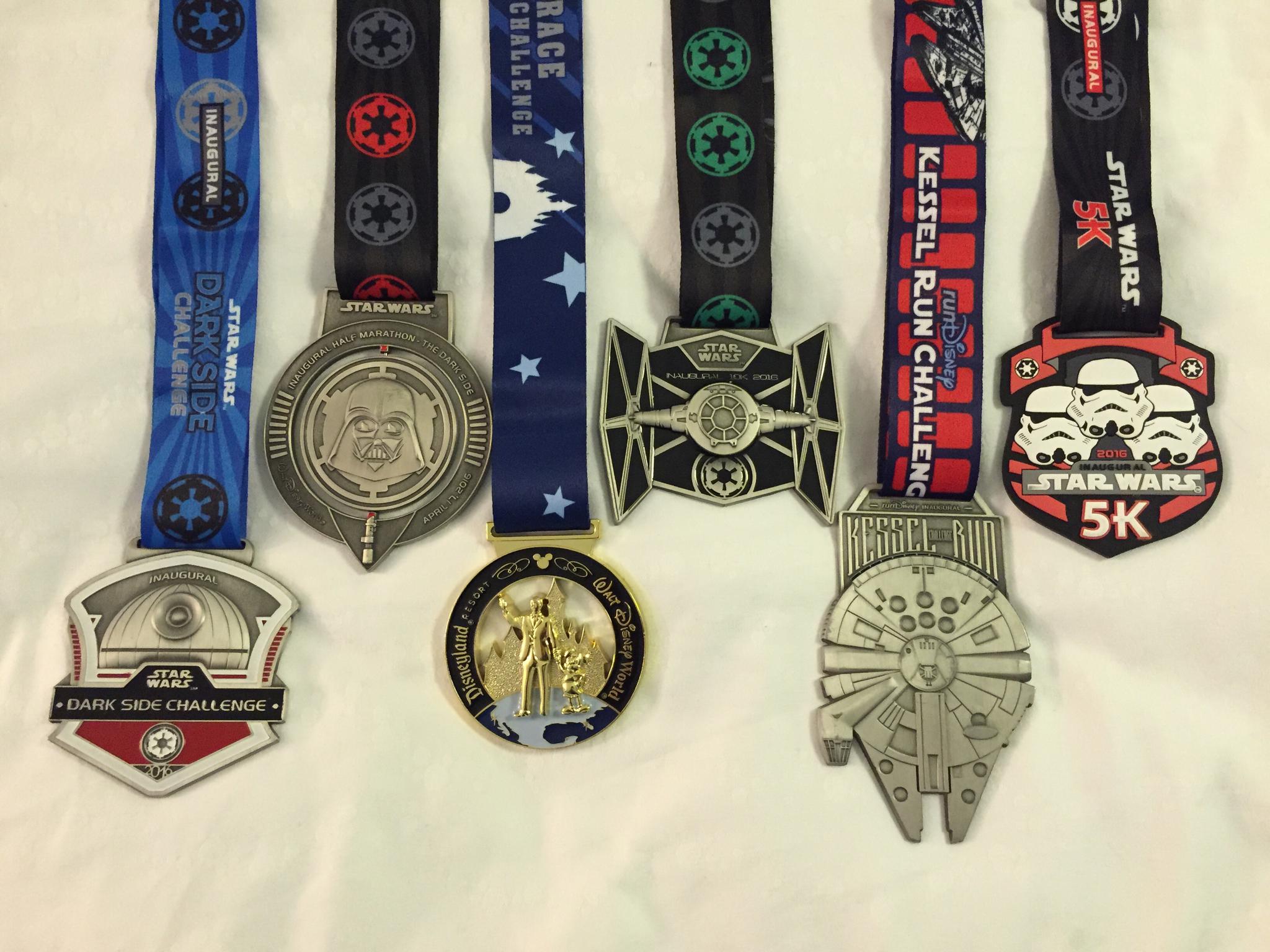 GIVING RUNNING A MAGICAL TOUCH
The magic, as it were, of these races is how well integrated they are into the park and how much they draw on the empire's beloved characters and franchises. At the starting line, which is so brutally early so as to clear runners from the park in time for opening time, there are characters and lots of cheery-happy hype. Depending on where you are, Disneyland or Walt Disney World, you start in or are soon in the park, running by well-known attractions and in backstage areas, getting a glimpse at the machinations that fuel the Magic Kingdom.
At each kilometre, aside from race regulars like water volunteers, there are characters. People actually break their stride to get a mid-race selfie with Mickey or Maleficent, finishing time be damned. Pace runners are affectionately known as the balloon ladies because, you guessed it, they're running with balloons. And the running garb of nearly every runner has some connection to a character, if not a full-out costume, heavily fuelled by the enormous Health and Fitness Expo leading up to the event that peddles every manner of branded gear – itself an economic juggernaut.
And people love it. All weekend through the park you see people proudly wearing their medals – sometimes four at a time – drinking in the torrent of congratulations from passersby and fellow racers. Older runners, groups of runners, visibly first-time runners all proud of what they accomplished because of the House of Mouse.
Scoff if you like, I know I did at first, but the fact is, people who love Disney, really, really love it. Walt Disney was recently named the most powerful brand in the world by London-based brand valuation and strategy company Brand Finance (though Forbes ranks it at number 11), and much of that heft comes from years of shrewd acquisitions. ESPN, Pixar, The Muppets and Marvel are all now Disney owned, as is Star Wars.
And that brand love is completely un-jaded, fuelled by childhood memories of Darth and Luke, a lifelong love of Mickey and Co., an undying connection to comic book heroes. And the organizers work that to max effect.
Darrell Fry, sports media director, Disney Parks & Resorts, says that bringing people to sport through the wonderful world of Disney is one of the primary goals. "We are totally focused on creating even more one-of-a-kind experiences for runners during our runDisney race weekends, so we continue to tap into the extraordinary resources of the Walt Disney Company and its many popular franchises to create race experiences that runners of all demographics and skill levels can't get anywhere else except at runDisney events," says Fry.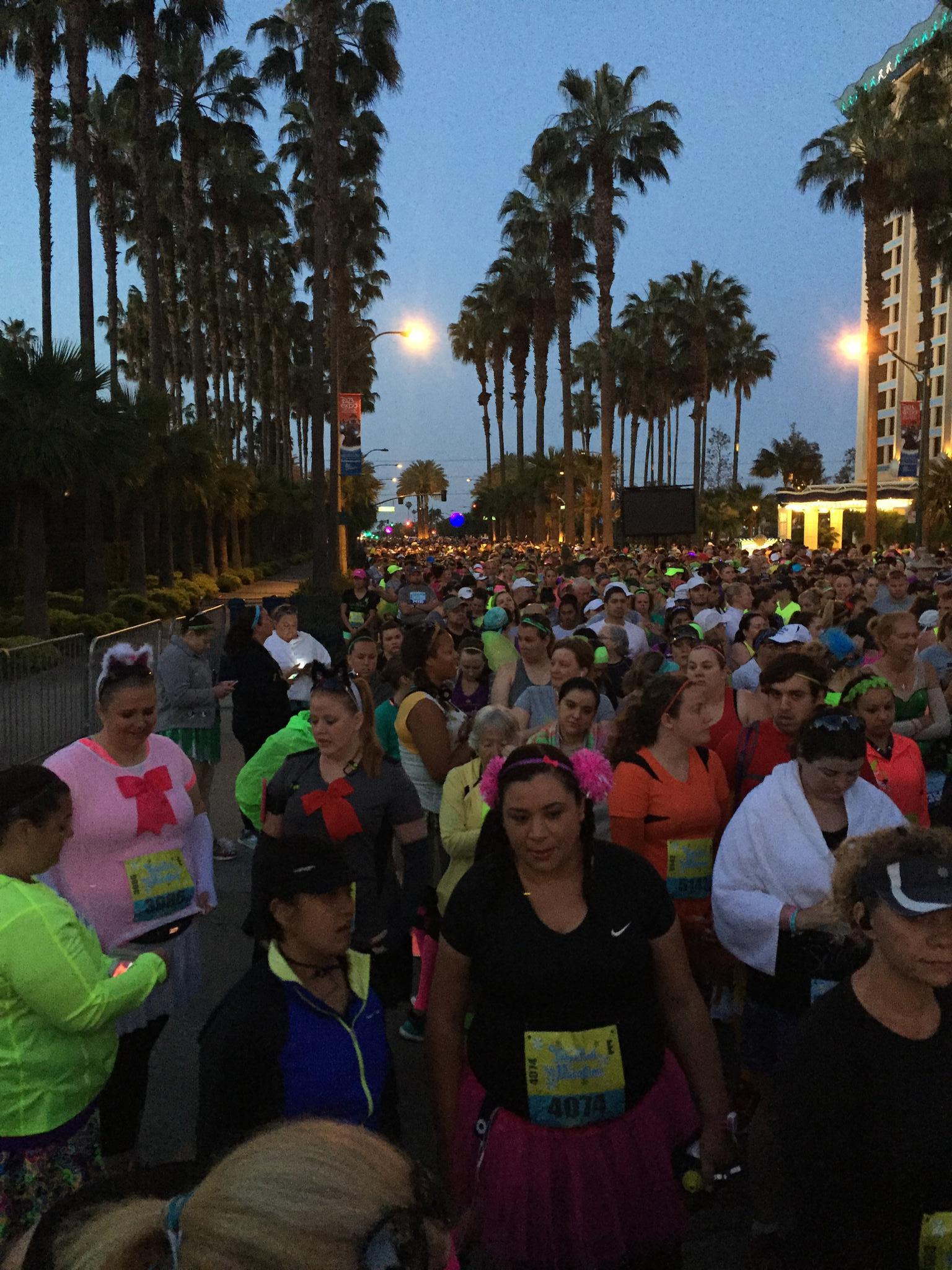 HOW FANDOM FUELS FITNESS
Javier Mora of Toronto was drawn in by his long love of Disney's world-class animation, storytelling and theme parks. While researching a trip to Walt Disney World, Mora stumbled upon some podcasts to help plan your trip. After his family vacation he continued listening to them and discovered runDisney.
"After researching a bit about runDisney events, my curiosity was piqued. I liked the idea of mixing running exercises with Disney's theming and I started wondering if I was fit enough to do it," says Mora. His first training runs were disappointing: he'd tire after 2K. He challenged himself to train harder and signed up for a half-marathon without having tested that distance.
"After training for more than six months, I started to feel that 5K was just a regular practice run and that I could endure longer distances." He reached 15K in his training runs, short of the half's 20.1K, but was determined to try. "I still had doubts but the high energy of the event and the large number of runners around me kept me empowered to keep going and I was able to complete the race! It felt so good to know that the training had paid off and that I achieved something I thought I would not have been able to do before."
When Natalie Fultz watched her friend, Toronto native Arwen McKay, win the 10K at the 2015 Princess Half Marathon Weekend, she and her wife caught the bug. "I am former softball player, so distance running was not my thing, and my wife was a soccer goal keeper in college, so again not a distance runner. We set a goal of running wine and dine 2015... I never thought we would make it. We were slow, out of shape, and overwhelmed," says Fultz. But they ran the Wine and Dine race and it was a success – sort of.
"We affectionately say it was a half a half," she says explaining that due to severe lightening in the Orlando area, the race was cut in half. "We were so devastated that we had trained so hard for something to have it cancelled pretty much."
On the flight home they signed up for a hometown half marathon and completed it. "I cried like a baby, I was so proud." Since they've run the Glass Slipper Challenge, two local halfs, the a coast-to-cast Dumbo Double Dare, the air force half marathon and the Southernmost Half in Key West this year. "It was our love of Disney and the excitement of all things runDisney that sparked it. If you told me this time last year that I would run a half marathon and have six more planned I would have had you committed! But now running has given me so much I can't imagine life without it. The friends, the experiences, quality time together with no technology just each other on training runs, not to mention the health benefits! I owe it all the runDisney!"
For Genevieve Handfield, a travel agent from Montreal, the need to find an activity and friends who were runners led her to runDisney. Having only ever run a 5K in Ottawa – "I thought it was such a huge distance and only strangers could do it," she says – she told her friends of her dream to run the Princess half. She figured that if she was able to run a 5K, she could probably run a half – once in her life.
"I told my friend I would love to do it at Disney and she just jumped right in with me," says Handfield, who ran the half marathon in 2105 with four other women.
During the run Handfield says she cried, a lot. "I'm a big crier here, but on Mainstreet USA, when I couldn't take it anymore, people were so nice and you get a great feeling," she says. She's since run another half and is register for the Ottawa half in May and Montreal in September. "I still can't believe I can run 21.1K. For me, it was something only athletes did. So now I know more than ever that I can do what ever my mind is set on. I'm also very proud that I got my kids to join me in running. They love running the kids 1K or 2K, but they are mostly proud of their first 5K in 39 minutes."
Kids have a way of rekindling one's connection with Disney. It was during a trip with his wife and son, which happened to coincide with the Princess Half Marathon Weekend, that Mike Noble's runDisney journey began. "We saw there was a 5K, we signed up, and we were hooked," says the New Jersey native, saying he's a lifelong fan of Mickey's empire.
Since that first race, Noble and his wife have run several Disney half marathons, as well as non-Disney runs. "I now love running. I don't run with music, I use the time to try to clear my head and get together with nature at times. I run to feel better, to feel accomplished, to feel awesome," Noble says. "At the Disney runs, I like to try to get to know the people running around me because it is fun to meet new people! Being able to mix my live for Disney and my love of running is awesome."
He also loves the enthusiasm at the Disney runs, particularly the costumes. "I ran two Princess halfs, one dressed as Jasmine and one as Snow White. As a man, you get a lot of attention wearing a skirt at the Princess runs!" His most memorable moment so far has been finishing the full marathon in 2015 and receiving his medal from his son. "Finishing a marathon is something a never thought I would do, and the feeling of finishing was exhilarating."
That a man can run in a princess skirt and be cheered says much about the welcoming and inclusive atmosphere at runDisney events. While elite athletes own the course, many, many others find their own pace.
"Disney isn't intimidating like a lot of races," says Fultz. "We are not fast, like 13 to 14 min miles, but at Disney I never worry about that or the fact that we use run walk intervals. Everyone is there to support you doing it, no matter how you get it done. Not all races are like that."
That's how Paul Marotta, a cosmetic chemist from New York, found his stride to lose 100 pounds. At Disney he's completed three multi-race challenges and now regularly runs marathons. Megan Papetti from Boston had become "very overweight" at the time she signed up for her first event. "I've now lost the weight and have run many other races there and in my area. I haven't looked back."
In fact, runDisney's Fry says on average "more than half" of runners are participating in a runDisney event for the first time. "Running industry experts frequently point to our races as being ideal for first-time runners because of the fun atmosphere. As a result, we see large numbers of runners coming back again and again."
For Javier Mora, that's the most memorable aspect of running at Disney: seeing so many people of all ages and fitness levels challenging themselves to get to the finish line.
"It was a humbling and inspiring experience to run with some men and women who had prosthetic legs, some others had photos of their loved ones attached to their clothes as a symbol of honour or dedication," he says. "Some were in costumes; some were in teams. Spectators had the funniest signs like 'Worst Disney parade ever' and a photo of Steve Harvey saying 'Welcome to the Boston Marathon!'. It was a very positive and empowering experience."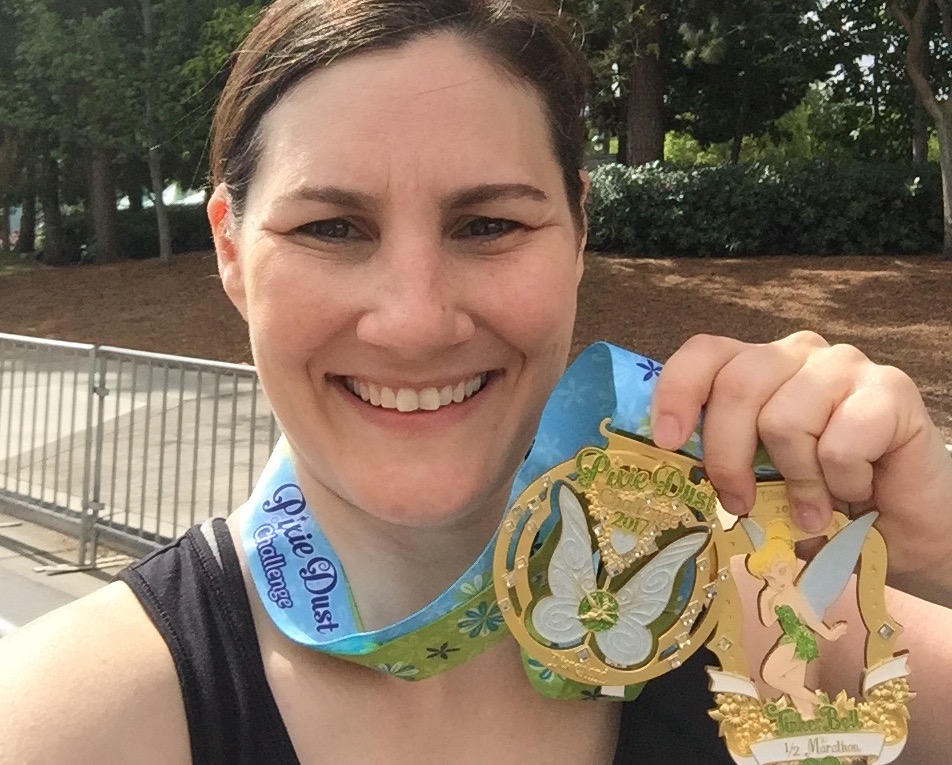 A CYNIC'S TAKE
So has runDisney turned me into an ardent runner? Not really. I simply don't have the requisite gene to run on the regular. But it has turned my husband into one. His first half marathon was Star Wars themed, which, for this forever fanboy was a thrill. And I love how it gives us as a family an excuse to make exercise important; to work towards a goal together. I'm currently "training" (I'll use the term very loosely) with my daughter for our next 5K at Walt Disney World in Florida this April. It's an easy distance. We can do it with little threat of utter and dramatic collapse. And it's fun. There really is something truly magical – even for this old cynic – about running under the gates of a castle as the sun comes up with your family, and a horde of people just trying to find their way to fitness in a way that matters to them. Also: race reward churros.
[Edit: since this article was first published I have run in several other races, ranging from 5K to a Half Marathon. I still think it's crazy.]